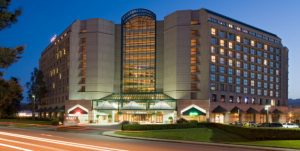 Hyatt Regency San Francisco Airport
1333 Bayshore Highway
Burlingame, CA 94010
Online registration is now available.
RESERVE YOUR ROOM NOW
The Hyatt Regency San Francisco Airport is pleased to offer a special discounted rate of $239.00 plus 12% occupancy tax single/double occupancy for conference attendees.
The rate will be good from Saturday, October 14th, 2017 thru Friday, October 19th, 2017 and are available three days prior and post if you wish to take a little extra time in the area. A major credit card or deposit will be needed when you make a reservation to guarantee your room.
Reservations Cut Off Date
All hotel reservations must be made by
5:00pm PST, 28 September 2017
. We have been granted an extension the original deadline was September 20. After September 28th, you will need to contact the hotel directly as reservations will only be accepted if space is available.
We highly recommend you make your reservations early this year as we are limited on rooms this year due to other conferences in the area.
RESERVE YOUR GOVERNMENT RATE ROOM NOW
We will have a limited number of government rate rooms for this years conference. They will be on a first come, first serve basis and are at the rate of $155 (12% occupancy tax). You will be required to show a valid US Government ID when you check in.
We have a limited supply of student rate rooms available. Students presenting at the conference will be given priority for these rooms, but all students are eligible. If you qualify for a student rate room, please contact manager@s3sconference.org for more information.
Hyatt Regency San Francisco Airport self-parking is $6 up to 1 hour, $12 up to 6 hours, and $25 for 6+ hours. Valet parking is $10 up to 1 hour, $20 up to 6 hours, and $30 for 6+ hours.
Members registered and staying at the Hyatt Regency San Francisco Airport will receive a 20% discount on parking.
If you have any questions or concerns regarding the hotel or reservations, please contact us at manager@s3sconference.org.
CHECK-IN/CHECK-OUT TIMES
Check-in time is 3:00pm and check-out time is 12:00pm. Guests are permitted to check in early or check out later subject to room availability.
EXTRA PERSON IN ROOM
A charge of $25 per person will be added to the room rate for more than two adults in a room. Children 18 years and under may share the same room with parents at no additional charge.